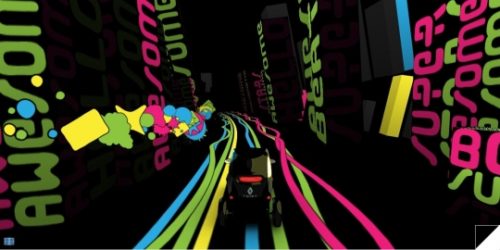 Race along in a surreal world to the thumping beats of DJ David Guetta! This website for Renault is a well done mix of experience and game.
At the 82nd international Motor Show in Geneva, Renault officially released their new electric car: Twizy. In partnership with the world famous DJ David Guetta and his wife Cathy, Digitas Francecreated a unique 3D sound visualization using Away3D.
For the project, David Guetta did an an exclusive remix of «Alphabeat», the world class graphistSO ME was in charge of the graphics. Digitas and nicoptere did the 3d sound visualizer in Flash. The project was completed in just 5 weeks, from scratch.
All models are parametric: particles, billboards, discs, donuts, blocks. This approach took more development time upfront but gave a great deal of flexibility and control over the experience afterwards. The road for instance is a module distorted dynamically by a parametric Catmull-Rom curve. Very few assets were done with an external 3D modeler. The car was provided by Renault and then simplified to obtain a low polygon version.
According to the developers, "Away3D was definitely the right API to create this kind of experience. It is a solid base to start a project and we found it pretty easy to create our own extensions, animations, textures and shaders".
Just the same day, Digitas France also released another 3D website using Away3D for the Renault Megane.